Get all the details on KJHK's live music showcase, including local and national bands.
By Kaitlin Brennan
Live @ KJHK kicks off the local music block every Tuesday night on 90.7 FM, Lawrence. The show features in-studio performances, artist interviews, new music reviews and much more.
The show was first conceived when hosts Michael Engelken and Kaitlin Brennan realized a vital necessity was missing at the station. That necessity was the raw power of live music. Unlike most of KJHK's Special Programs, this show abhors playing tracks off albums –unless of course, the artist asks the hosts to. This not only gives listeners access to a different types of sound (live sound!), but gives local and touring artists the chance to promote and showcase new projects. You can hear these performances again (and see them, too) at Live @ KJHK's very own YouTube channel.
Since its conception, Live @ KJHK has seen quite a myriad of artists. From West Coast grunge rock to local KC rappers, this show plays no favorites when it comes to geographical locals and genres. So, if there's an act you find particularly fetching and believe deserves some air-time, email multimedia@kjhk.org!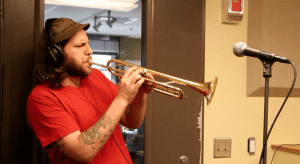 Tune in to Live at KJHK every Tuesday night from 7-8 p.m.