Happy Spring Break! While we are not physically in the station this week, we still had plenty of great new music come our way. Check it out below.
Top 5 Charts:
1.) Tame Impala – The Slow Rush
Tame Impala's groundbreaking Currents was a hard album to follow up; this may be, in part, why The Slow Rush arrived a full five years later. Though it is debatable whether this album lives up to its predecessor, The Slow Rush is a dynamic album and a strong return for Tame Impala.
2.) Soccer Mommy – color theory
Soccer Mommy's sophomore album somehow manages to be both brighter and darker than her debut, Clean. color theory is an exploration in growth, encapsulating the young artist's rise to indie fame and the struggles that have arisen as a result.
3.) King Krule – Man Alive!
Archy Marshall, the abrasively raw, smoky voice behind King Krule, has never shied away from anguish. His newest release, Man Alive!, might in fact be his most soul-wrenching release yet. On the record, Marshall grapples with an unexpected, looming fatherhood and his seemingly intrinsic desire to "kill good things."
4.) Ezra Furman – Sex Education Original Soundtrack
Ezra Furman's artsy folk-punk style is a perfect complement to the antics in Netflix's original show, Sex Education. What makes this soundtrack particularly phenomenal, however, is that the songs hold their own even apart from the show.
5.) Car Seat Headrest – "Can't Cool Me Down" [Single]
In 2020, Car Seat Headrest is reinventing itself. This first single release from their upcoming album Making a Door Less Open (their first release in four years) marks a shift from their well-established sound within the realm of gritty rock to their new experimentation in electronic music.
Top 30 Charts
| Rank | Artist | Record | Label |
| --- | --- | --- | --- |
| 1 | Tame Impala | The Slow Rush | Interscope |
| 2 | Soccer Mommy | color theory | Loma Vista/Concord |
| 3 | King Krule | Man Alive! | True Panther/<atador |
| 4 | Ezra Furman | Sex Education Original Soundtrack | Bella Union/Pias |
| 5 | Car Seat Headrest | "Can't Cool Me Down" [Single] | Matador |
| 6 | Denzel Curry and Kenny Beats | Unlocked | Loma Vista |
| 7 | Kevin Krauter | Full Hand | Bayonet |
| 8 | Yves Tumor | "Gospel For A New Century" [Single] | Warp |
| 9 | Grimes | Miss Anthropocene | 4AD/Beggars Group |
| 10 | Marcus King | El Dorado | Fantasy/Concord |
| 11 | Thundercat | It Is What It Is [Advance Tracks] | Brainfeeder |
| 12 | Boy Romeo | Pure Soul | Self-released |
| 13 | Electric Guest | Kin | Atlantic |
| 14 | Danny Brown | uknowhatimsayin¿ | Warp |
| 15 | Waxahatchee | Saint Cloud [Advance Tracks] | Merge |
| 16 | Dan Deacon | Mystic Familiar | Domino |
| 17 | Jordana | Classical Notions Of Happiness [Advance Tracks] | Self-released |
| 18 | Kid Nobody | Discretion [EP] | Self-released |
| 19 | Hello Forever | Whatever It Is | Self-released |
| 20 | Fat Tony and Taydex | Wake Up | Carpark |
| 21 | Down Time | Hurts Being Alive | Mutually Detrimental |
| 22 | Frances Quinlan | Likewise | Saddle Creek |
| 23 | Wolf Parade | Thin Mind | Sub Pop |
| 24 | Opus Orange | Miles From Nowhere | Emoto |
| 25 | Ballroom Thieves | Unlovely | Nettwerk |
| 26 | Loose Buttons | Something Better | Moon Crawl |
| 27 | The Seshen | Cyan | Tru Thoughts |
| 28 | POLIÇA | When We Stay Alive | Memphis Industries |
| 29 | Swim Mountain | If [EP] | Monday |
| 30 | Ratboys | Printer's Devil | Topshelf |
Top 3 Adds:
1.) Aunty Social – The Day My Brain Broke [EP]
Recommended if you like: Nilüfer Yanya, Chairlift, Lorde, Mallrat, G Flip
2.) Joywave – Posession
Recommended if you like: Big Data, KOPPS, Sir Sly, Grouplove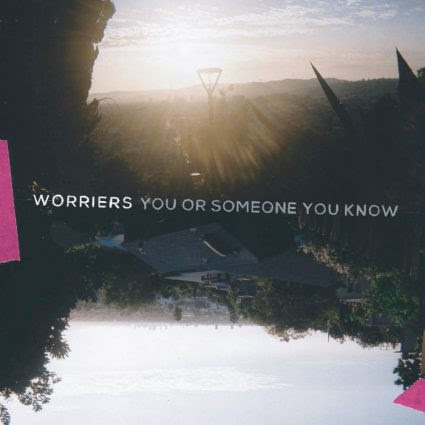 3.) Worriers – You or Someone You Know
Recommended if you like: Sleater-Kinney, Against Me!, Ex Hex, Dude York
Top 10 Adds
| Rank | Artist | Record | Label |
| --- | --- | --- | --- |
| 1 | Aunty Social | The Day My Brain Broke [EP] | Nettwerk |
| 2 | Joywave | Posession | Cultco/Hollywood |
| 3 | Worriers | You or Someone You Know | 6131 |
| 4 | Bonus | IIII | Muscle Beach |
| 5 | The Districts | You Know I'm Not Going Anywhere | Fat Possum |
| 6 | Birthday Club | Obscure Emotion | Self-released |
| 7 | Nadia Reid | Out Of My Province | Spacebomb |
| 8 | Zoe Sky Jordan | Scenes From Infinity | Self-released |
| 9 | Overcoats | The Fight | Loma Vista |
| 10 | THICK | 5 Years Behind | Epitaph |